SAPECS-affiliated researchers Jessica Cockburn and Mathieu Rouget, together with a team of researchers and practitioners working in the eThekwini Municipal Area (Durban, South Africa), recently published a paper on bridging the science-action gap in the journal Ecology and Society. Through presenting empirical insights and lessons learnt from a local collaboration between a university (University of KwaZulu-Natal) and a municipality (eThekwini Municipality), the paper contributes to a growing body of research on the role of transdisciplinary research in bridging the gap between science and society.
The paper uses the Durban Research Action Partnership (D'RAP) as a case study to test and operationalise a model of transdisciplinary research proposed by Lang et al. (2012). Through its eleven-year journey, the partnership has built a strong foundation for long-term collaboration. The lessons learned through this process have been synthesized into a framework of recommendations for successful implementation of science-action partnerships. The framework consists of four broad enabling actions, each one based on a number of specific factors, as shown in the figure below.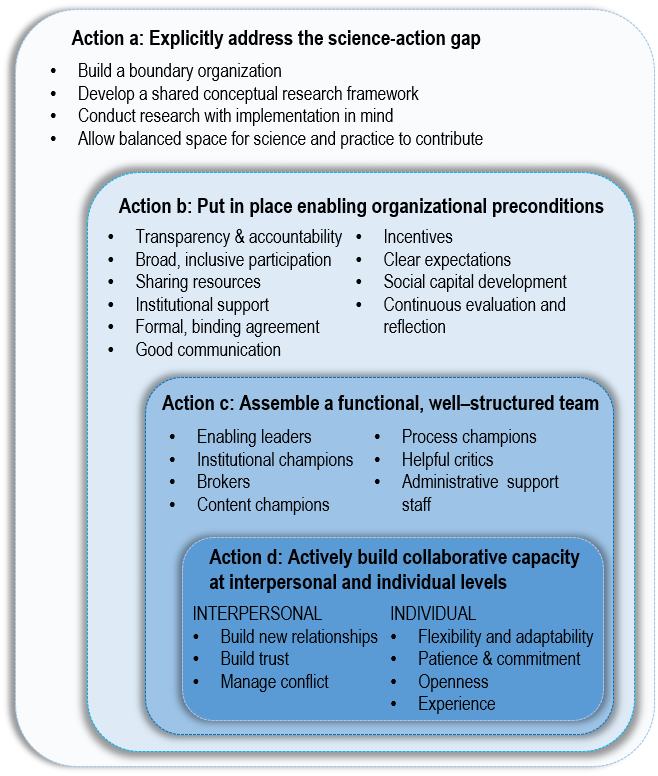 The four enabling actions are:
Explicitly address the science-action gap
Put in place enabling organizational preconditions
Assemble a functional well-structured team
Actively build interpersonal and individual collaborative capacity.
The paper proposes that initiatives and institutions seeking to contribute to solving complex, interlinked social-ecological problems of societal relevance must recognize the importance of explicitly bridging the science-action gap. This means paying particular attention to bridging traditional disciplinary and institutional boundaries and building collaborative capacity of individuals and teams. By documenting and reflecting on such a process, the D'RAP case study provides conceptual and practical guidance on bridging the science-action gap through partnerships.
Through a process of on-going evaluation and reflection on successes and failures, the partnerships is on a successful trajectory based on the following aspects: 1. strong working relationships growing over time; 2. trust and social capital developed; 3. human capacity built; and 4. implementation-driven knowledge generated.
In publishing this paper, the D'RAP partnership is responding to increasing calls in the literature for empirical insights and lessons from scientists and practitioners working together to bridge the gap between science and society, in the hopes to grow understanding of the enablers and barriers to collaborative research endeavours.
For further information, please contact the corresponding authors: Jessica Cockburn: jessicacockburn@gmail.com and Mathieu Rouget: rouget@ukzn.ac.za
This research was supported by eThekwini Municipality through the Durban Research-Action Partnership (D'RAP): KwaZulu-Natal Sandstone Sourveld Research Programme.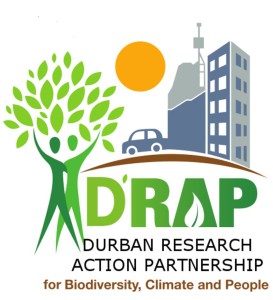 Citation and link:

Cockburn, J., M. Rouget, R. Slotow, D. Roberts, R. Boon, E. Douwes, S. O'Donoghue, C. T. Downs, S. Mukherjee, W. Musakwa, O. Mutanga, T. Mwabvu, J. Odindi, A. Odindo, &. Proches, S. Ramdhani, J. Ray-Mukherjee, Sershen, M. Schoeman, A. J. Smit, E. Wale and S. Willows-Munro. 2016. How to build science-action partnerships for local land-use planning and management: lessons from Durban, South Africa. Ecology and Society 21 (1):28. [online] URL:
https://www.ecologyandsociety.org/vol21/iss1/art28/

Share:




Follow: